Show Monitor End +
Monitor End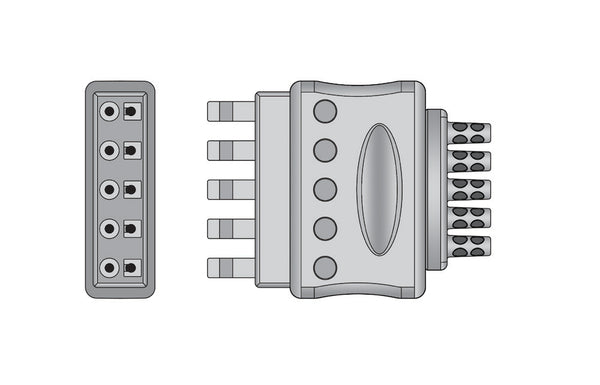 Hide Monitor End -
Patient End
Roll over image to zoom in
Click on image to zoom
---
Save Over 50% with OEM Compatible
100% Guaranteed to work like OEM
Description
Compatible Philips M1633A ECG leadwire set. It is compatible with Merlin, Viridia, Omnicare CMA, Heartstream, Envisor, IntelliVue, V24/V26, C Series Monitors, 78352C, 78354A/C, 78834A/B/C, M1001A, M1001B, M1002A, M1002B, M1722A, M1722B, M1723A, M1723B, M2475B, M3000A, M3001A, M4735A. It is for use with trunk cables TCAA-2385-ID and TCAA-23029-ID.
åÊ
43385 (3 Leads)
4535-612-33921 (3 Leads)
M1500A (3 Leads)
M1510A (3 Leads)
M1540C (3 Leads)
M1520A (5 Leads)
M1560C (5 Leads)
Curbell CBT-03JB-10CS-0121 (3 Leads)
Curbell CBT-05JB-10CS-0121 (5 Leads)
Datascope 0012-00-0846 (3 Leads)
Datascope 0012-00-1002-01 (5 Leads)
åÊ
Payment & Security
Your payment information is processed securely. We do not store credit card details nor have access to your credit card information.